Cardio-pulmonary resuscitation (CPR)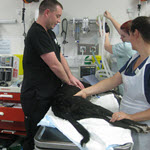 Preparedness – how to get your practice as prepared as possible for such an event?
What is basic life support? How to perform chest compressions and how to ventilate the patient who has arrested.
Advanced life support – you will learn what drug to give and when to give it. We will discuss the different arrest rhythms and treatments, how to administer fluid-therapy and what else can be done for the patient during CPR
Knowing how to monitor a patient during CPR is paramount for decision making. What monitoring can you rely on? How long should you be doing CPR for?