Camelid Medicine and Surgery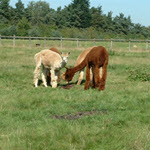 Be happy with camelid owners and their animals.
Be familiar with dental problems, clostridial disease and endo parasites so that you will understand when animals with colic require referral
Be competent to advise on female problems and be able to perform a caesarean section.
Be able to carry out, sedation, analgesia, anaesthesia and castration in this species.
Be competent to diagnose and treat dermatological conditions.