Pet Travel and Emerging diseases: "Expecting the unexpected"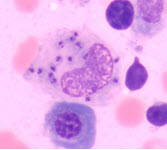 Discussion of the PETS scheme and the risks associated with increasing pet travel.
Introduction to rabies and Echinococcus multilocularis – what are they and what's all the fuss about?
An overview of some of the emerging diseases starting to appear in the UK that should be included on the differential list - Leishmania, Babesia and Ehrlichia.