General Approach to the Poisoned Patient and Neuromuscular Toxins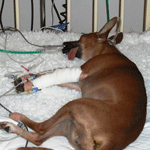 General approach to the poisoned patient including aspects of decontamination – most small animal poisons cannot be treated with specific antidotes!
Intravenous lipid emulsion: what it is, when and how to use it
Rational approach to neuromuscular toxicity
Chocolate poisoning (surely not!)
Find out what RSI DEAD is all about!